Are you searching Mathway account for free? In this article we have shared 250+ Free Mathway premium accounts with password, Get Mathway for free.
FREE Mathway Accounts – Whether you are at Grade school or in your college, the Mathway account for free will benefit you in your career. If you are looking for a Mathway premium account, then you are at the right place. Here in this article, I am sharing the Premium Mathway accounts for you.
You can get the full benefit from the Mathway accounts for your career, whether you are a teacher or a student. You will feel great support from the Mathway tool in your studies; as a student, you will get a great advantage from the assistance of Mathway.
Mathway is the greatest tool and an awesome innovation from science and tech for making it easy to solve problems in the field of education. It is an innovation that is helping the great mass of students across the entire globe.
What is Mathway, and how does it work?
Mathway is a great tool and a blessing for students who face difficulty in solving math problems. Well, most of us feel that math is a really tough subject to study and way too tough to solve problems sometimes.
Mathway is the tool that helps students with their math problems, and this tool has now become popular worldwide for the features it has on its platform. Students like this tool so much because Mathway solves any Maths problems within seconds.
It is not just a tool for the students, it's a great assistant for students on their math homework, and they can practice math problems with the help of Mathway. Mathway can help you improve your maths problem-solving skills.
Things you need to know about Mathway
Mathway is the greatest tool in education for the students that helps the students crack the mathematical problems in a smart and effective way so that students can get good growth and overall progress in their study subjects.
The Mathway is an excellent tool that helps you in cracking tough math problems, as this tool includes many options involving algebra, trigonometry, statistics, and many more. The availability of a wide range of options makes it a great tool for you, especially the students from grade school.
The long-term objective of Mathway is to create high-quality education on mathematics available for all students with active, effective, and enhanced support. This app is an ambitious and long-term visionary goal made for students by putting in a great effort.
The Excellent Features of the Mathway app
As you already have some details of the great Mathway tool, you can now have an overview of this app or tool. You can use this tool as a student and get a great advantage in your studies. I will explain the excellent features of this app to you.
No commercials on the app: whether you are using it for free or paid, it doesn't matter; you are free from all those irritating commercials that ruin the learning experience. Ads are always so disturbing for the viewers of the apps. In this Mathway learning app, you won't even face a single advertisement. Enjoy all of the available features without any disruptions
You can log in from your device from any place around the world; this app is available for both Android and iPhone.
Mathway has storage space for you all; you can save your calculations and previously solved Mathematics problems so that you can access them later from your device whenever required. It will save your papers, too; you can recheck your solved problems and revise your questions.
The Mathway app comprises primary mathematics terms like fractions, arithmetic, roots, integers, decimal numbers, and factors.
You will acquire step-by-step answers to all of your mathematics questions, but there are some differences when it comes to free accounts. With the free accounts, you can only get the final answers.
There are every math functions available that you would require; these are algebra, graphing, linear equations/inequalities, matrices, functions, absolute equations/inequalities, systems of equations, quadratic equations/inequalities, logarithms, etc.
Get FREE Matrhway Accounts & Passwords September 24, 2023
Today's Mathway Accounts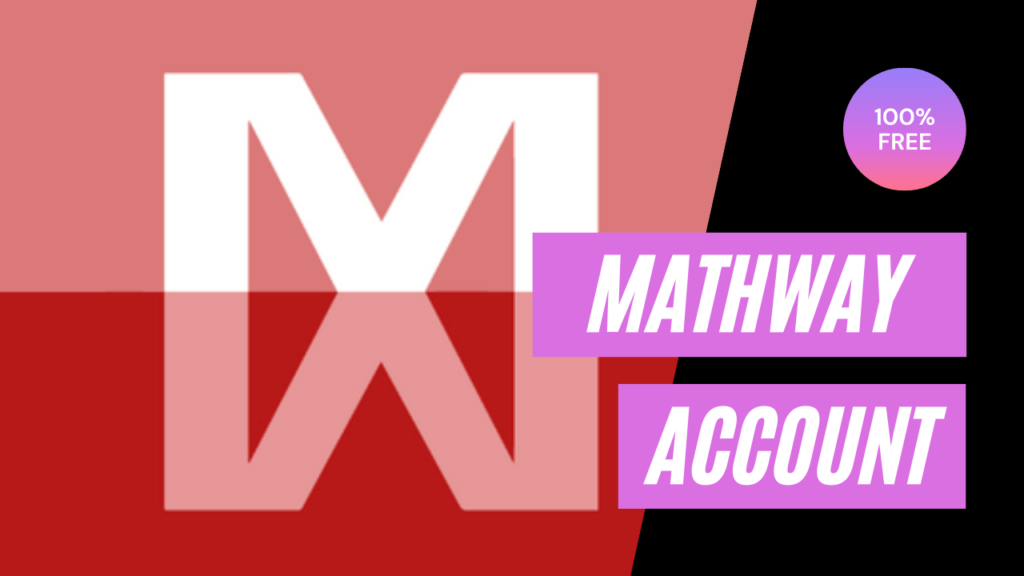 Mathway Accounts Updated On
September 24, 2023
Email: [email protected]
Email: [email protected]
Email: [email protected]
Email: [email protected]
Email: [email protected]
Password: Click Here For All Passwords↓
Rule: If you want to win the giveaway then you have to leave a positive comment with date, Thanks.
Download Mathway app 2023 version
You must be eagerly waiting and searching for the link to download this awesome app. As you already have read the facts and features of this app, this is now obvious that you might want to use the app in your learning.
You can download the app from the given link in this article; I already have shared the working link here. You just have to click on the link, and you will see the download page. Once you are on the download page, click on the "Download now" button, and your file will be downloaded instantly.
I have prepared an installation guide for you so that you can install the app on your device without making any mistakes. I have put the steps and demonstration in the paragraph below, read them carefully, and you can successfully install the app on your device.
Mathway app Installation and usage guide
If you are going to use the app on your mobile device, then you can easily install it from the authority app store for your device, i.e., the google play store for android devices and the apple app store for the iPhone and other Apple devices.
Now, if you want to install and use the app on your pc, then you have to follow the steps which I have demonstrated below.
Step 1: Download an Android emulator for your pc. I would recommend you use the BlueStacks emulator for the sake of simplicity. Install and open the emulator on your pc.
Step 2: Now download the Mathway app and store it on your pc, where you can access it whenever required.
Step 3: You need to drag and drop the file on the emulator window to install it; this is the most straightforward and convenient way.
Step 4: The emulator will ask you if you want to install the app inside the emulator or not. Click on yes and wait for some time to completion of the installation process.
Step 5: You may need to provide permission for granting access to the app while installing. Click on yes to allow the app whenever prompted for asking permission.
Get a free premium trial from Mathway
You can sign up for your free premium trial account on Mathway. With the free trial account, you can only get access to the question answers that were previously solved. You can get a good advantage from the free account on your learning.
For creating the account, you need to visit the official website of Mathway and click on the sign-up button located on the website. Then you will see the sign-up form on the website that you have to fill up and submit.
Please use all of your valid information, such as your name, and email address, and do not forget to keep a strong password to keep your profile safe. Submit your information and wait for the verification mail.
Verify your account creation by clicking the link received through the mail. This will confirm that you have created your account and your information is not misused by others to open the account.
After the account is created, you can use the basic features allowed to the account.
Conclusion:
In this article, I have shared Free Mathway Premium accounts for you all. You can use the accounts for your learning purposes and solve your mathematics problems. There is one mandatory rule that you should sincerely follow; you can not change the password of the shared accounts.
For any other assistance, I will be available 24/7 to help you. Feel free to pig me in the comment section for any of your queries.