Free Crunchyroll accounts username and password, 100% working premium accounts generator, hack and cracked accounts, Get Crunchyroll premium free
Free Crunchyroll Accounts – No doubt your love for anime has brought you here. If you are an anime lover, you just have no reason to not know about Crunchyroll. Crunchyroll is the biggest online platform that telecasts all kinds of anime dramas, films, and series, along with some manga, electronic entertainment, and many more.
Crunchyroll has some tempting content in them that is very much difficult for us to resist. There is only a single reason which stops us and you from availing of Crunchyroll, which is their high subscription price.
But no wonder, as usual, we are again here to provide you with premium stuff absolutely free of cost. And, this is the same for Crunchyroll here, in this article, we will discuss all the possible ways you can avail of Crunchyroll accounts for free, and also there will be a giveaway of free accounts from our side. So, let's just get continued further.
A little bit About Crunchyroll
Crunchyroll is the biggest and the best platform for streaming anime dramas, films, web series, and whatnot. It was founded by an American company in 2006. The company came across many hurdles in its initial days, regarding copyright issues and many more legalities.
Overcoming all these hurdles, it has come along to have a larger fanbase despite its high subscription charges. They do not have any freemium service option, unless you have a subscription you can't stream your favorites on their platform. That is the reason why we have put in much effort to bring Crunchyroll accounts to your phone and desktop free of cost.
Ways to avail of free Crunchyroll accounts
There are many ways to get Crunchyroll premium accounts for free. Some of the working ways are mentioned below:
Free Crunchyroll accounts through daily giveaways.
Crunchyroll free accounts through the trial method.
Use free Crunchyroll through premium cookies.
#1. Get free Crunchyroll accounts through our giveaways
To watch high-quality anime video streams, and the latest anime shows and web series, the first and last thing you need to do are to log in to one Crunchyroll account which needs to have premium access. We try our best to avail our users of the best solutions and alternatives. Like away, we have started our giveaways.
Below, we will share a few premium Crunchyroll account usernames and passwords. The job on your part is to log into Crunchyroll with any of those usernames and passwords and start enjoying your favorite anime series, videos, manga titles, other electronic entertainment, and much more amazing content. All the Japanese content is telecasted on this platform just after one hour of its release.
Today's FREE Crunchyroll Premium Accounts
Crunchyroll Accounts Updated On
December 3, 2023
Email: [email protected]
Email: [email protected]
Email: [email protected]
Email: [email protected]
Email: [email protected]
Password: Click Here For All Passwords↓
Rule: If you win the giveaway then you have to leave a positive comment with date, Thanks.
#2. Create a free premium Crunchyroll account
You can avail yourself of Crunchyroll premium services by creating a Crunchyroll premium account. This comes with a catch. Crunchyroll provides a 14 days trial to their new customers. If you are a new user at Crunchyroll, you can surely try this.
But to avail of this, you would need a credit card. If you own a credit card, then follow the steps elaborated below, and, if you do not own a credit card, there is absolutely no reason to worry, we will discuss a few more ways by which you can avail of premium accounts without having a credit card.
Steps to avail of a 14 days trial
Visit the Crunchyroll official site www.crunchyroll.com
You will find one option named, premium. Just click on that, and you will be redirected to a page where they will showcase the premium plans.
On the new landing page, you will find three premium plans such that
Fan – 7.99$/month (can be streamed only on one device)
Mega Fan – 9.99$/month (can be streamed on 4 devices at once)
Mega Fan – 79.99$/yr (can be streamed on 4 devices at once)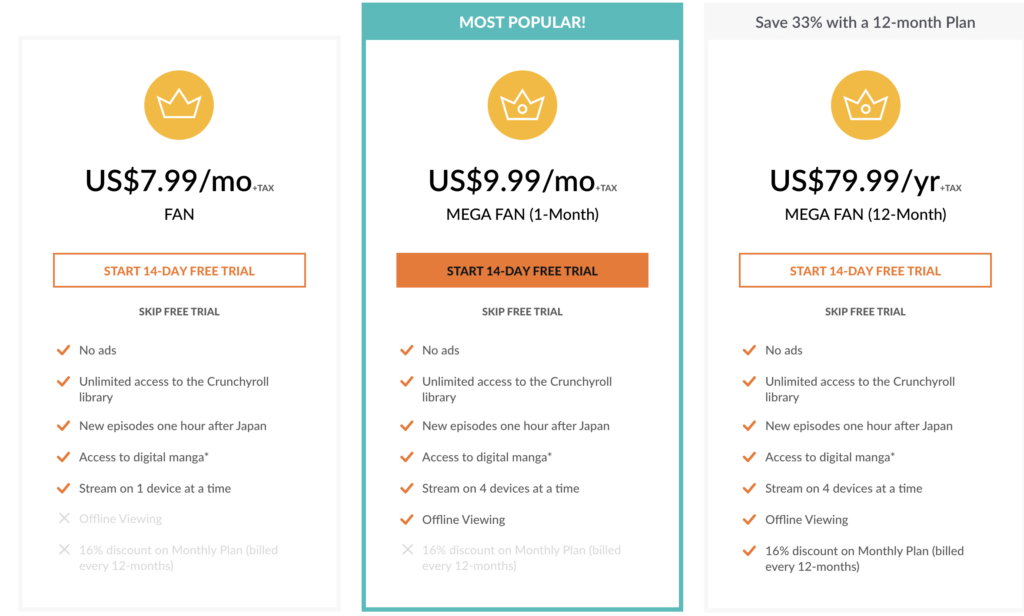 Click on the plan you prefer to avail of.
Since you are a new user, a higher chance is that you do not have a Crunchyroll account and you have proceeded just like us, then you will be redirected to a page where you will be asked to sign up. Sign up using a fresh email address that hasn't been used in Crunchyroll before and set a password for yourself.
In the next step, you will be asked to enter your credit card details.
Then, voila! You can just now start experiencing all the premium services and facilities of Crunchyroll accounts.
One very important point to note is that, if you do not want to pay the amount after your free trial period, please make sure you remove your credit card details from Crunchyroll and also cancel your Crunchyroll account before the completion of a 14-day free trial.
Else, Crunchyroll would debit the whole amount from your account. To do this, follow the below steps
Open Crunchyroll's official website and move to your profile.
You can find one option, cancel membership over there, just click on that and your work is done.
#3. Get free Crunchyroll accounts using cookies
This is the way to access premium Crunchyroll on your computer. This works without any username and password. Below given a list of working cookies.
Just by editing your existing cookies for the Crunchyroll website, you can experience all premium high-quality anime videos and manga titles on your personal computer. Follow the steps mentioned below to make premium Crunchyroll free accounts reach you at zero cost.
Steps to get free Crunchyroll accounts without any username and password
Go to the Chrome web store and search for the extension named "edit this cookie". Download the extension and activate it.
In the next step, open the official site of Crunchyroll on your browser. Then click on the newly downloaded extension and Editthiscookie.
Now, you will find a cookie manager dialogue box to be opened. In that box, you are likely to find blank cookies. Now your job is to copy one of the cookies enlisted here on this website.


Paste the cookie on that blank box.
At the end of that dialogue box, there is one green tick mark. After pasting the cookie, click on that green tick.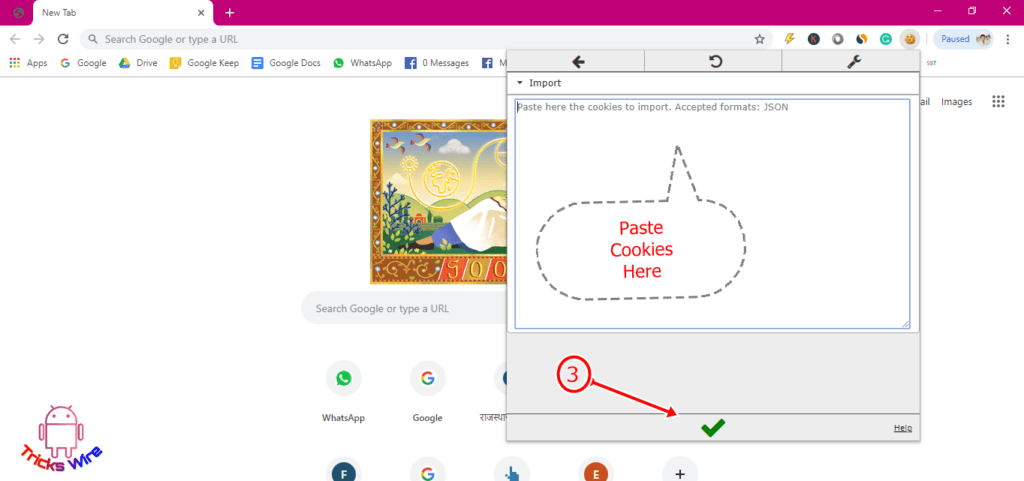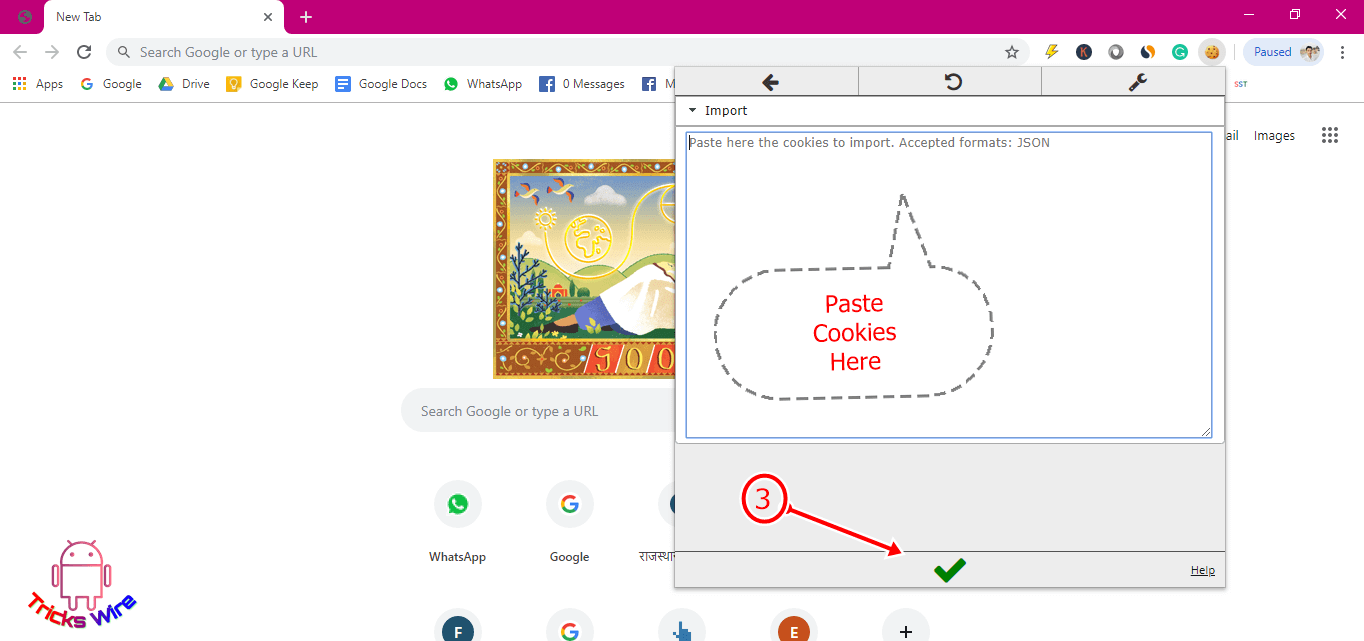 Now, you are left with the last step. Refresh the page to find you logged into a premium Crunchyroll account.
Make sure you do not log out of the account. This will make lose this account and you would need to repeat the entire thing once again.
05 Free Crunchyroll Premium Accounts for you
Crunchyroll Accounts Updated On
December 3, 2023
Due to the high demand for free Crunchyroll accounts and too much traffic, not all people are getting a personal account.
So here I am sharing some more Crunchyroll accounts with the password with you. And remember these accounts are not for personal use, so do not change their password and give all people a chance to use them.
---
---
---
---
FAQs
Is it possible to hack or crack Crunchyroll's account?
ANS: It's possible but it's also illegal. I always recommend you use the above-shared accounts.
The above shared Crunchyroll accounts are better than hacked or cracked accounts, And it's also 100% safe, Just copy the username and password from the above list and use Crunchyroll accounts for free.
How can I get a Crunchyroll premium account for free?
ANS: It's pretty simple, just copy the username or email from the above box, And then go to the password page and copy the password.
Now go to the official Crunchyroll website and log in with that username & password. And enjoy the Crunchyroll premium for free.
Conclusion:
Hope this article has been useful to you in one way or some. Crunchyroll is one of the best platforms in your zone. We have tried our best to let you find all the possible ways to have free Crunchyroll accounts.
We have elaborated on each and every step of how you can avail yourself of it. If you come across any difficulty, feel free to put your query in the comment box, and we will try our best to solve your issue.
Also, if some of the accounts do not work, while you try to log in, we are very sorry for that. When we put those Crunchyroll free accounts, they were all in working condition. If this article was helpful to you, share it with those who you feel are in need of this.