Free Roku accounts and password, Get Roku accounts for free 100% working Roku premium. Free login of Roku TV cracked and hacked account.
Are you also searching for a free Roku account? You are lucky that you have landed at the right place at the right time. Today, I will share some free Roku accounts for you so that you can experience premium Roku accounts for free.
You can do a lot with your Premium Roku account, but the thing is whether you can afford a premium Roku account or not. Not every one of us can afford a Premium Roku subscription as many of us can not spend that much money on a subscription.
For the people who can't buy a Roku premium subscription, I have come up with a bunch of Premium Roku Free accounts to entertain you with the premium features of the platform without spending any amount of money from your wallet.
A Detailed brief on Roku
As many of you know, Roku is a Hardware Digital media player Brand and is manufactured by Roku, Inc, which is an American company that mainly focuses on media streaming providers and public entertainment services.
Roku offers access to the various streaming services available in the market. You can experience High-quality streaming of your favorite content with Roku. Now you have the opportunity to enjoy your favorite content anytime and anywhere you want.
Roku is a brand new name in the market, and it is growing faster with time. I hope this article about Roku will give you at least some minimum details on Roku and will help you know the services in a better way. You will have an overall idea of the various services and features of the platform.
How to get the Free Roku Accounts
Here, you are getting so much information on Roku, and these things are eventually making you more attracted to Roku. I know you must be thinking of a way out on how to get the free Roku accounts.
Today, I am going to share the premium Free Roku accounts for free so that you can be benefitted from the shared Roku premium accounts. There is a huge pile of Roku premium account lists posted in this article. You can grab any of these posted accounts.
FREE Roku Accounts & Passwords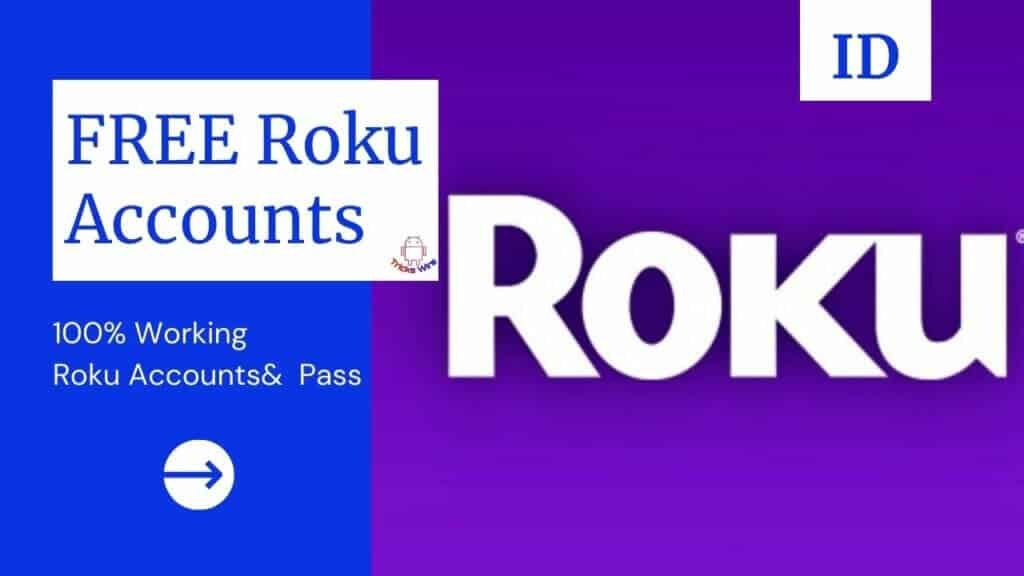 Roku Accounts Updated On
September 24, 2023
Email: [email protected]
Email: [email protected]
Email: [email protected]
Email: [email protected]
Email: [email protected]
Password: Click Here For All Passwords↓
★NOTE: I hope you have received your Roku account, If you do not get it, check it tomorrow and you will get it. If there are any questions, then you can ask in the comment box below.
Apart from the shared Roku premium accounts, you can get private Roku premium accounts from our Telegram channel. In the private telegram channel, I regularly update the premium accounts and cookies; you can get any of them as per your choice.
Features of Free Roku Accounts 2023
You must be wondering what the amazing features that Roku has for its users are. Roku is a global media streamer organization. Hence it's obvious that Roku must have some of the most awesome features for its users worldwide. Let's take a look at the features with a little description below.
Now you can watch any of your favorite content from various sources. You can get access to multiple channels on your Roku; hence you won't have to miss any updates from your favorite shows. Never miss an update and get updated with the regular episodes of your favorite content from anywhere in the world.
Roku has the perfect feature for all of you; now, you can control your Roku and perform other activities using voice commands. You can search channels, your favorite shows, etc. using the voice search feature. You can change channels and do other staff using your voice only, which is giving you great flexibility with your work and streaming.
Your Roku tv keeps getting better with the updates it is getting from time to time. Giving you an optimal user experience, your Roku is getting better with automatic updates.
This is the must-have tool for all, the Free Roku mobile app. The Roku mobile app has given us the freedom to search for our favorite content using our voice. It is easy to control your Roku device with great flexibility and easy-to-use functions.
In case you never want to miss any updates from any of your favorite content, you can use the My feed option. This will give you a pop-up on any updates and changes to the content you have added to the "my feed" function.
Activate a Roku Account Without a Credit Card
I am here with a perfect walkthrough for you so that you can get the best guidance to get your Roku account activated without even using your Credit card. Most importantly, you will learn how to bypass the payment method and activate the Roku premium account.
First of all, you need to be clear about certain things. Roku does not want you to involve in any payment on activation or installation of your Roku device. The activation is free, but you need to enter your billing details for future use.
Now you need to follow the instructions and the walkthrough posted here.
STEP 1: The first time you plugged in your Roku, you should see the setup page on your screen. You need to follow the instructions from here. Select your desired language and connect to your wifi network. Let it detect the resolution that suits you best according to your network.
STEP 2: Once that is done, you need to go to your web browser and activate your Roku. Please note down the 4 digits' alphanumeric code somewhere you can access it later when needed.
STEP 3: To do this, you need to use your computer. Now you need to create a new Roku account. You can find the link here below, click on the link, and you can access the Roku account sign-up form on your pc. Fill out the sign-up form by putting all of your valid details such as your name, email id, billing details, etc.
STEP 4: In the account section, you will see the payment method options. In the future, if you want to get paid for Roku channels, you can use the option to update your payment details. Now, we will skip this part and set up your Roku without a credit card.
STEP 5: To do the above-stated step, go to roku.com/link and enter the code that you can see on your screen. On the next screen, you have to click on the "I already have a Roku account" option and sign in using your new account details.
STEP 6: In case you can't see anything on the screen, you might have to refresh the browser, and it will ask you to enter your payment details. You need to skip that part by clicking on the option "skip, I'll add later."
STEP 7: Give a name to your Roku device, and you are good to go for watching your favorite shows.
FAQ On Free Roku Accounts
We can't able to discuss all frequently asked questions related to Roku, So here are some most asked queries about Free Roku accounts. If you are also facing any issue related to this then read and follow these faqs.
How can I get a free Roku?
ANS: The answer is simple, We provided many Free Roku accounts with the password above. Simply copy and paste the username and password and enjoy Roku for free.
How to install Amazon Prime Video on Roku?
ANS: It's very simple to install Amazon prime video on Roku, Just follow the given steps:
Press the Home button on the Roku remote.
Select Streaming Channels, then select Search Channels.
Search Prime Video and select Add Channel.
After the app is installed, select it on the list of installed channels on the home screen.
If you already have an Amazon Prime Video account, you need to enter your credentials the first time you open the app or use a code that it will give you to register via another device.
To login via another device, visit: https://amazon.com/code
Otherwise, you can set up an account at this stage.
Now that you're logged in, you can start browsing the content on offer.
Now Amazon prime video is successfully installed on Roku.
Conclusion:
In this article, I have tried my best to give you every minor detail about Roku, and I also have shared a bunch of Free Roku accounts which you can take for your personal use. I have put a straight and simple walkthrough for all of you so that you can get your Roku activated without using your credit card.
For more premium accounts and cookies, you can visit my site. I also have a private telegram channel, and I share more premium accounts and cookies there regularly. You can join my telegram channel by clicking on the Telegram button shown on the screen.