Do you want to cancel the Prime Video subscription, but the platform auto-renews the subscription plan and extends it for one more time? In this case, you must be looking for ways to cancel the Prime Video auto-renewal plan.
Or, were you on a 30days free trial subscription plan of Amazon Prime Video but now you want to cancel it before your plan renews? In any of the cases, this article is going to help you and share how to cancel Prime Video Auto-Renewal. 
OTT platforms have become very popular nowadays. Especially since the lockdown that was imposed due to COVID-19 when people could not go out to cinema halls to watch their favorite actors or actresses performing and watch superhit movies.
At that time, almost every movie fanatic switched to OTT platforms such as Netflix, Hotstar, and Amazon Prime Video. However, not everyone purchased a subscription and instead borrowed it from their friends or family members.
Many of these people who thought of purchasing a subscription and trying out these platforms for the first time, must have gone for a free trial period subscription. Many of you might have purchased a subscription to one of these OTT platforms, let's say Amazon Prime Video.
Now, once you have filled in your card details and processed ahead. The platform renews your subscription automatically until you cancel it by yourself. So, if you want to cancel Prime Video Auto-Renewal keep reading this article.
With Amazon Prime Video, you get a 30-day free trial subscription that includes almost every benefit that you will be getting with a subscription account. This trial period is given to first-time users who haven't bought any subscription on that platform before.
But whether you want to cancel after the free trial or mid of an already taken subscription, the procedure is the same.
Quick Answer
To cancel Prime Video auto-renewal/pay, follow these steps:
Go to your Amazon account and sign in.
Click on Account & Lists in the top right corner of the page.
Select Your Prime Membership from the drop-down menu.
Click on Manage Prime Membership.
Under Membership Settings, click on Edit next to Payment Method.
Under Automatic Renewal, uncheck the box next to Turn on automatic renewal.
Click Update.
Your Prime Video auto-renewal will now be canceled. You will still be able to use Prime Video until your current membership period ends, but you will not be charged again after that.
How To Subscribe To Amazon Prime Video?
Amazon Prime services are super convenient and easy to operate. Whether you are purchasing or canceling the subscription, you can do it in really easy steps. If you are looking to subscribe to Amazon Prime Video then follow the following steps.
Now, you will have to sign in to your Amazon account. In the top-right corner, you can see an option for signing in. If you don't have an Amazon account already, then you can simply click on Create your Amazon account which is available at the bottom of the sign-in box.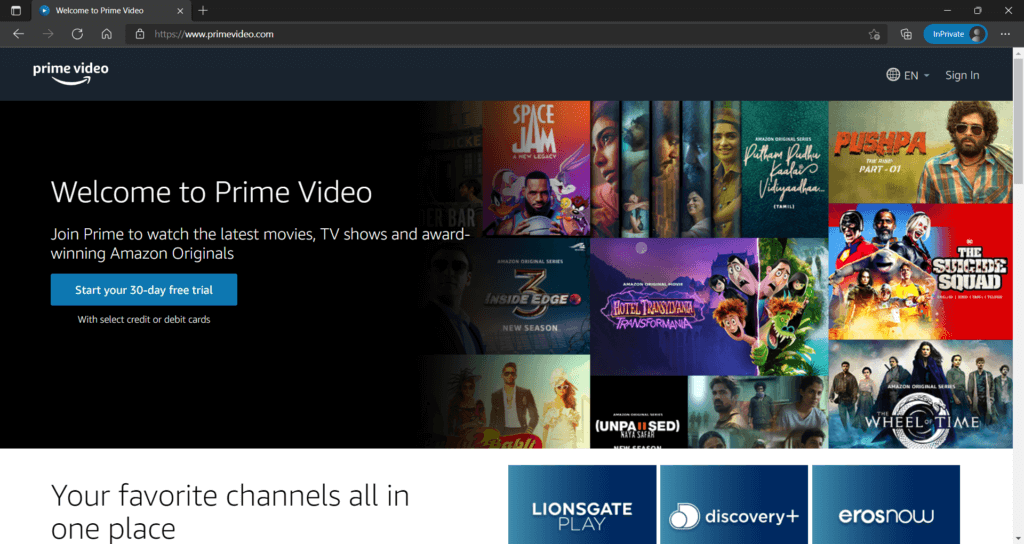 If you want to start a 30-day free trial, then on the left side of its home page, you can see a blue box that reads Start 30 days trial, click on the blue button. The next page that will open will ask you to sign in to your Amazon account.
Once you have successfully signed in to your Amazon account, you will be asked to choose a plan for yourself. There is a monthly subscription that costs Rs. 179, a quarterly that costs Rs. 499, and a yearly subscription that costs Rs. 1499. Depending on your preference, you can choose for yourself.
Next, you will be asked to enter your card details.
Once, you have fulfilled all the criteria, your Prime membership will start. If you are opting for a month free trial subscription then Amazon will automatically deduce payment once the trial period is over.
Benefits Of Amazon Prime
When you are subscribing to Amazon Prime, you not only get access to Amazon Prime videos, but other benefits as well such as you get access to Prime Music, Amazon originals, and other benefits on the Amazon shopping app.
You get free two-day shipping on eligible products.
Some products are under same-day delivery options.
Prime membership also includes free access to Amazon Fresh which lets you purchase fresh groceries and household essentials but this service is restricted to certain cities and areas.
Prime members get 30 days of early access to deals and discounts on the Amazon shopping app.
Amazon has a separate section named Only Primes that provides special benefits on a range of products for its Prime members.
How To Cancel Prime Video Auto-Renewal?
You purchase a Prime membership and become a Prime member in order to be able to access Prime Video. So, if you want to cancel your subscription to Prime Videos, you will have to cancel your subscription to Amazon Prime Membership.
Amazon gives you the power to cancel your subscription anytime that you want. You can do it by following the given steps.
First of all, go to Your Account and then click on the Account & Settings option.
In the menu, on the left side, you can see the Amazon Prime renewal date. You have to go through it and select an option as per your membership. If you have a free trial subscription then click on End Trial and Benefits, and if you have a paid membership then click on End Membership and Benefits.
If you have clicked on End Trial and Benefits, you will have to click on Do Not Continue to discontinue Amazon Prime services whereas if you have clicked on the other option, your membership will be discontinued after the current period of the subscription.
Also, if you want to set a reminder to notify you before the renewal then you can it by selecting Remind me before Renewing in the Next Payment section.
Amazon Prime membership includes many benefits. As a Prime member, you get benefits on different purchases and access to Amazon services. You also get Prime Video with it.
There are many benefits to Prime membership but still, if you want to discontinue then you can cancel Prime Membership auto-renewal. If you want to cancel Prime Video Auto-Renewal then you will have to cancel your Prime membership.
This can be done very easily and with fewer steps. If you want to continue the service again then you can do it by going to My Account>> Manage Your Prime Membership>> Continue Membership.
Conclusion:
So guys, In this post I will teach you how you can turn off the auto-renewal of Amazon Prime Video. Hope you understand and learn something from this article. If you have any queries related to this topic then feel free to comment below.