Everything was good till Whatsapp launched the feature of deleting messages for everyone. Though the feature is very useful and helps delete the message for both sides that might have been sent accidentally by you.
But what bothers is when somebody else deletes a message from a chat without letting you know what it was. You can simply ask them to resend the deleted message but how many times.
You don't want to waste your time asking people to resend a message that might or might not be important for you. So, what is the alternative to this? The answer is simple. You can try recovering deleted Whatsapp messages for yourself. Now, how to recover deleted Whatsapp messages in 2023?
At present times, Whatsapp is owned by Facebook. But unlike Facebook where you can share photos and videos with people you know and also with people you don't know and anybody connected to Facebook can send a message or a friend request to you, Whatsapp is more of a private space.
Whatsapp is a messenger app where you can find people who are on your contact list. You can initiate a chat with them, call them via video or audio, and share status with people in your contacts only.
Also, you can manage your status setting and share it with limited people. But most importantly, Whatsapp is used as a messenger which is secure and every message sent or received via Whatsapp is encrypted and hence nobody can read your messages without your permission.
So, it is pretty common in the case of Whatsapp that people delete messages that they might think are unnecessary after sending it or sending a message accidentally.
After every deleted message, the recipient wishes they could read those deleted messages and know what the message was. Luckily, there are ways to recover deleted Whatsapp messages.
How To Recover Deleted Whatsapp Messages 2023?
With the latest and updated features on Whatsapp, it is important that you learn the trick of recovering deleted Whatsapp messages for the latest update. A very common trick is using your Whatsapp backup.
But this trick is applicable to IOS as well as Android users. Your Whatsapp backup consists of everything, every sent and received message by you. So, let's see how to use your Whatsapp backup to recover Whatsapp messages.
The first step is to verify whether you have created a Whatsapp backup on iCloud. And if you are an Android user make sure to create a WhatsApp chat backup on your Google Drive. If not, then make sure that you backup before moving on to the next step.
You can connect your WhatsApp to cloid by going to the Settings of your phone.
Then go to Whatsapp Chats, and then click on Chat Backup.
At last, click on Back Up Now. Android Users can back up to Google Drive whereas iPhone users can back up their chats to iCloud.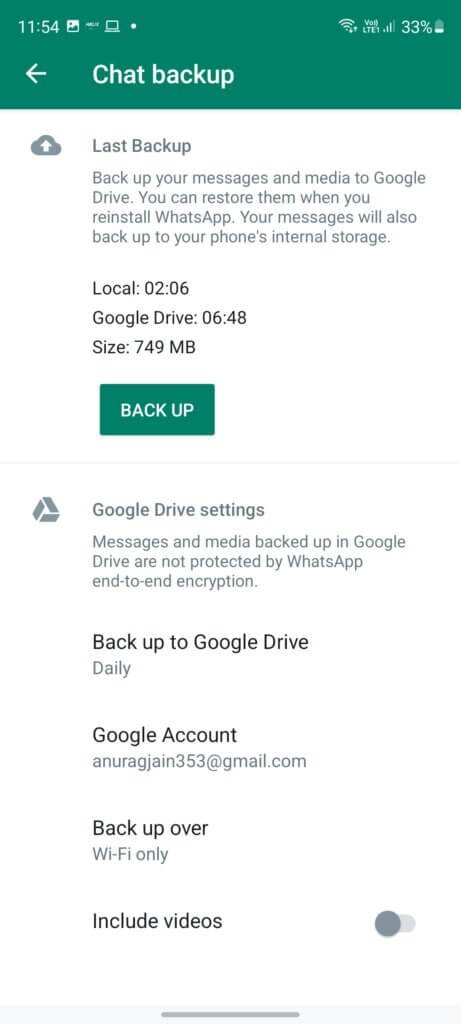 Now, when a backup of WhatsApp chats is available on iCloud or Google Driver, you can easily recover all your messages including deleted Whatsapp messages as well. In the next step, you have to delete WhatsApp from your device.
Reinstall the Whatsapp app on your device verify with the same mobile number and move forward. While logging in, you will see an option of Restore Chat History.
Once, the process is finished, all of your chats and messages will be retrieved from iCloud or Google Drive and this is how you can recover deleted Whatsapp messages on your phone and iPhone.
Join Unlimited Whatsapp Groups
If you want to join any type of WhatsApp group then check out the given link, Here you will get all types of unlimited WhatsApp groups.
How To Recover Deleted Whatsapp Messages Without Backup?
If you are unable to follow the steps to retrieve WhatsApp messages using chat backup stored on your phone, you can use an alternative method to recover deleted Whatsapp messages.
You can use third-party apps, that help to view deleted messages at the time they were deleted and your internet was on.
But if you want to recover a message that was deleted away before time then you are left with no other option but to follow Whatsapp's Recovery program. Android users can use the FoneDog toolkit that recovers android data.
This tool is reliable and can recover a deleted message that was deleted even a year before. Fonedone works in a very easy manner. It scans all the deleted messages from your chats and extracts them so that they can be recovered easily.
This tool is 100% secure and trusted by almost every android user. So, let's see how to use it to recover deleted Whatsapp messages.
Download FoneDog Toolkit- Android Data Recovery tool on your PC. This tool runs perfectly on windows as well as Mac operating systems.
Once, the download finishes, install the tool on your PC.
Next, connect your android phone with your PC and switch it on to enable USB debugging.
Now, open the tool and select Whatsapp Messages to scan them.
Once, the scanning of the messages is complete, you can easily recover deleted Whatsapp messages without backup.
If you are an iPhone user and want to recover Whatsapp messages without backup, you will need to install a recovery program tool for the IOS device. One such tool is Minitool Mobile Recovery for IOS. This tool works similarly to the Android message recovery tool.
Download Minitool Mobile Recovery for IOS on your PC.
Next, install the downloaded file.
Now, connect your iPhone with your PC and open the tool on your computer.
Then click on the Scan option, and wait till the scanning completes.
Next, click on the Whatsapp data type list given to you to recover Whatsapp deleted messages only.
After this, you will have to select Deleted Messages.
And at the last, click on the Recover option.
Conclusion:
If you want to recover deleted Whatsapp messages in 2023, then you can do it with ease, no matter if the deleted message was deleted a min ago or a year ago. There are options to recover Whatsapp deleted messages on iPhone and Android phones as well.
You can either use Whatsapp backup stored on the cloud or you can use different tools to do the same. The only thing you need to take care of is whichever tool you use to recover deleted Whatsapp messages should be secure and a trustworthy toolkit.