Crack wifi password – Have you forgotten your Wi-Fi password? Or for some other reason, you want to connect to your sibling's wi-fi but they don't provide you with their password.
Or in the worst case, when you urgently need some access to the internet and few wi-fi connection options pop up on your phone and it's probably your nasty neighbour's. But the only option available at that moment is to crack into their network to access it.
So, the reason can be any, but the solution is cracking the password with the little harmless hacks so that you can get access to a secure wi-fi width band.
Although it is unethical to connect to any network without their permission, these hacks and tricks are highly handy and must only be used in case of emergencies.
If you are looking for a way to crack a Wi-Fi password, then this article will help you with that. In this article, we will be discussing how you can crack a Wi-Fi password easily.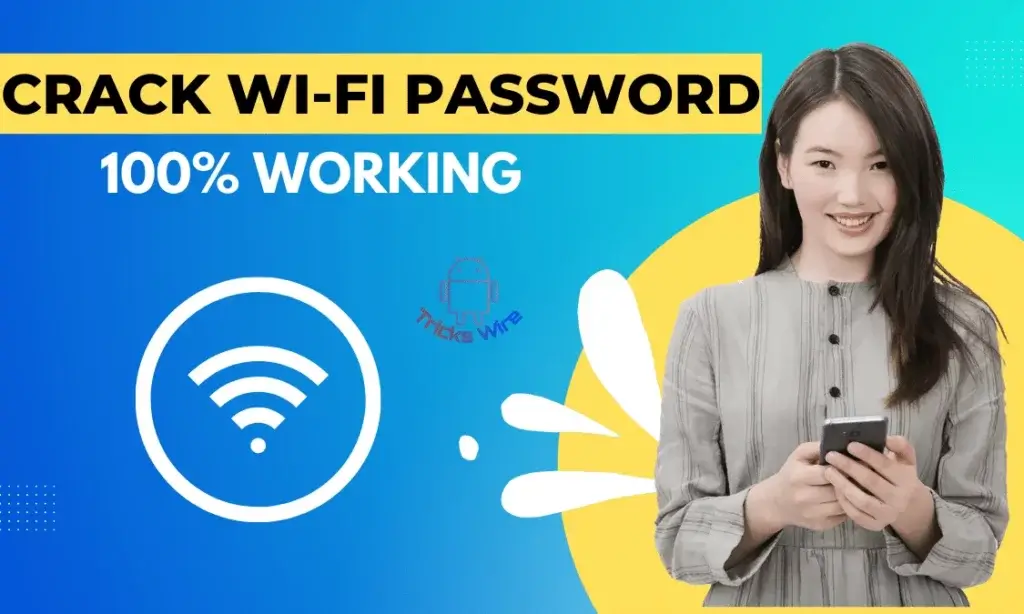 Access forgotten Password on Windows
This method is only applicable if you have connected to the same network in the past. Using this method, you can only access the passwords already saved on your device which means only forgotten passwords can be retrieved using this method.
If the owner has changed the password of the network, then also, you can't access the password of that particular wi-fi network and connect to it.
You have to follow the following few steps to crack the Wi-Fi password of the network you have connected to before-
● Make sure you have a windows operating system. Click on the search bar and type cmd.
● Left-click on the application named command prompt and select run as administrator.
● Type netsh wlan show profile and press the enter key.
● This will load all wi-fi connections you have connected to and saved passwords of in past under the section User Profiles
● Copy the name of the wi-fi you want to connect to and write netsh wlan show profile name = and paste the copied text inside double inverted commas and finish this command with key=clear, then press enter.
Eg: netsh wlan show profile name = "copied text" key=clear
● This will display data. In the displayed data, click on the security setting which will display the password of the selected wi-fi name.
● On mac operating system you can use the command security find-generic-password -wa copied text
Reset the Wi-Fi router
This is another hack if you have forgotten your wi-fi password. And as a regular wi-fi user, you might have used this trick before. But if you are new then this hack will help you reset wi-fi's or wi-fi router's password.
The trick is simple, if you reset your router, you can reset your wi-fi password. Generally, if you buy a router from your internet service provider then you can look for a sticker pasted on the router with a password written on it, but if not, then also you can successfully reset it.
If you check, there is a small hole with a button in it, which can reset your router. You can use a pin to press the button, or use any thin object such as all pin, unfolded paper clip, etc, which is not sharp and fits the hole and can press the button.
Once, the router is reset to its factory setting, you can set a new username and password using any smart device such as a laptop. There are various apps and websites to alter the router's setting which you will find on the internet easily.
One important thing to notice is that your device must be connected to an ethernet to be able to perform the necessary changes to the router.
Using Applications to Crack the Wi-Fi Key
When you have already tried all the available options to retrieve the password or access the Wi-Fi connection, the last option you are left with is by cracking the code of the wireless connection which in ethical terms is known as hacking.
This option must only be used if the other option fails because it is an untidy and a little more hectic solution than the other two mentioned Before.
You can use this method to crack a secured network your device catches while on the roads and you need to connect to the internet. Here are some of the applications which ease the task of hacking-
● Kali Linux
It is an operating system that is a Linux distribution used for penetration testing. Apart from this, it is also used for ethical hacking and security assessment. It is a type of operating system which is commonly known by the name Linux.
Kali Linux is the version of the Linux Operating system used for ethical hacking and penetration testing. One device can contain more than one operating system. You can install Kali Linux along with windows. As it is an open-source distribution, it is free for use.
It can be used via an external drive connected using the USB port or CD drive which means it does not require installation on your device's drive.
● Aircrack
It is a network software designed for ethical hacking and dedicated software for cracking WEP (Wired Equivalent Privacy) or WPA/WPA2-PSK secured networks.
It is free software but it takes professionals such as programmers and developers to use this software for ethical hacking purposes. This hacking tool can be used on Kali Linux.
One can easily download it on their personal computer. All you have to do is download this software on your smart device and work with it. It is a dedicated tool to hack Wi-Fi passwords
● Reaver WPS
It is one of the other tools designed for Wi-Fi hacking. It helps in the recovery of Wi-Fi passwords. Reaver is pre-installed in Kali Linux. The functionality of this tool is simple and it is much easier to use than Aircrack software.
This tool implements brute force on the WPA or the WPS (Wi-Fi Protected Setup) to recover the password even without pressing the physical button or the target's access point.
Once the password is recovered using reaver, the settings and the security access can be configured. While some other Wi-Fi setups do not provide a feature that reaver uses but many other tools can be used to crack the key or the Wi-Fi password.
Conclusion:
Many tools and open-source distribution can be used for ethical hacking of Wi-fi like Metasploit, Nmap, etc. These password cracking methods for wireless internet connection helps in accessing a Wi-Fi network secured with a password or security key.
Wi-Fi security can be weakened by weakening WEP (Wired Equivalent Privacy), or WPA (Wi-Fi Protected Access). This article mentioned a few ethical tools and software used for Wi-Fi key hacking which helps in recovering the Wi-Fi's password and access to configure the settings.
I hope you crack the password of the wifi, If you have any questions related to this topic then feel free to comment below, I will answer you as soon as possible, Thanks.