Once in our life, we all have forgotten our Phone's pattern lock or PIN password after setting it. Or sometimes, you try to set a difficult password or lock pattern that can't be guessed or unlocked easily, and then you forget it yourself.
After that, you spend a lot of hours recovering it by searching hundreds of websites and hacks. Lastly, we give up and end up at the mobile repair store for them to reset it.
But no more wasting hours over recovering lost PIN passwords and pattern locks of your android phone, as you do have the option to unlock the Android pattern lock, PIN, or password.
Before the android version, 5.0 android phones had an option of bypassing the lock password. But in later versions, this feature was removed for security purposes.
But no worries, you still have some options to recover your forgotten password. However, today's smartphone comes with more than 2 options to unlock your phone such as pattern, PIN, fingerprint, face detection, etc.
But if you haven't secured your lock password with other passwords, then this article is for you. This article will share a few time-saving hacks that can help you recover or reset your android phone's screen lock password. 
We have discussed some ways to hack/unlock Android pattern lock, PIN, or password.
Using Your Google Account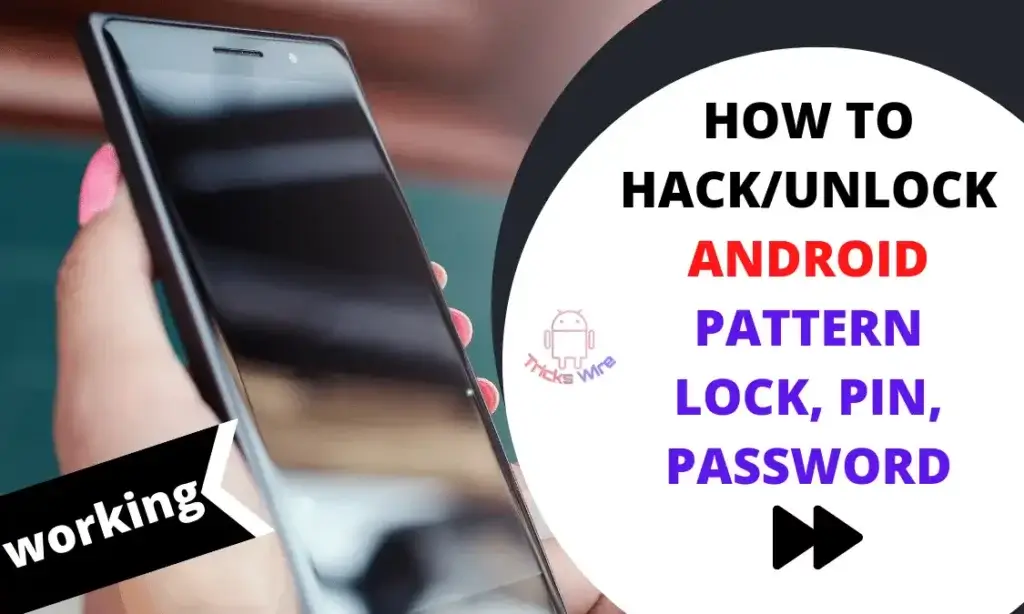 Everyone should remember to allow google to find their phone while setting up their Google account. When your Google account is linked to your device,
You can access various privileges such as finding your phone by tracking it if it gets lost or for instance, resetting its password when you forget it. To reset your android phone's password using a google account, follow the following steps.
When you have entered a wrong password or wrong pattern multiple times, after a few attempts, commonly five attempts, the device asks for the option Forget your password.
Click on the forget password, which will ask you to enter the key that you may have set in case you forget your phone's PIN or Pattern lock. But if not, it guides you to a page that asks you to log in with your Google account.
Enter your Gmail id in place of your email id and your Gmail account's password in place of the password. 
Once you have logged in successfully to your google account, you will find an option to reset the password.
You can now use the newly set password to unlock your phone.
Using Android Device Manager
This is similar to Google's service find my phone. Yet, one of the easiest other ways to reset the lock screen PIN password. You can access the Android Device manager's service through its website or by using its application.
For this to work, you will need to take the help of another device. However, you must have allowed the device manager in the phone's settings of your phone to help recover your password. This method helps retrieve the password in a few easy steps.
First of all, log in with the google account associated with your android phone on the other device.
Now, visit the android device manager website. On the website, you will find a different option. You have to look for a lock option that will help in resetting the lock screen PIN. 
As you would have already allowed the device manager on your phone to help this website search for your phone, you will be able to reset its password through the website
Once the password is updated, you can easily unlock your android phone.
Set a Smart Lock
If you are a person who forgets their passwords easily or even if you don't, there is no harm in setting one extra measure in case you forget your phone's lock password. The simple step you need to do is link your phone with your home's wi-fi.
So, anytime you forget your password, simply connect to the wi-fi you have set smart lick with. And it will automatically login into your device.
Using ADB (Android Debug Bridge)
This is an approved hack that will help you unlock your phone and reset its password using the window's command prompt. To use ADB, you will only need a laptop with windows operating system and follow the following steps.
If you have an encrypted phone and USB debugging is allowed on your phone, then simply connect your phone to the laptop via a USB cable.
When your phone is connected, you can access files on your android phone by ADB. 
ADB creates a bridge between the phone and the connected devices, mostly laptops. 
Open the command prompt and type the command or simply copy and paste the command adb shell rm /data/system/gesture.key and press enter key.
This command removes the PIN file from your phone, and thus, the lock screen security password is removed.
Now your phone is unlocked, you can choose to reset your password.  
By Resetting Your Android Phone
The simplest way is to reset your phone. Every mobile model has different ways to reset when the phone is locked.
This method must be used when all other hacking or unlocking options fail while trying to recover your phone's screen lock password. If you are unable to unlock your Android pattern, then you will have to reset your phone.
Commonly, there is an option available while booting your phone. This option requires your Google account associated with your android phone. One can reset their phone using that google account.
Once the phone is reset and turned back to factory setting, the password is removed, and the phone is unlocked. The only problem with this method is that it removes all the previously stored data on your phone, and you lose all of your data.
This method must be used when all other hacking or unlocking options fail while trying to recover your phone's screen lock password.
Conclusion:
Forgetting passwords is a common issue among everyone. We all have lots of accounts on different websites and applications so anyone can forget their passwords. That's why it is important always to make sure to have other options if you forget your password.
We have discussed how you can hack/unlock the Android pattern lock, PIN, or password, so you can follow the steps in this article to get access to the Android phone.