Are you searching for a way to record the Google meet video call with audio? If yes, then you have come to the right place; here, you will get many ways to record a google meet video call with audio.
In this global pandemic, online meeting platforms are used more than ever before. Students especially want to know every hack related to these online meeting platforms to be able to play the smartest and learn most efficiently.
One of these connecting platforms is Google meets. One of the biggest flexes of online meetings is that you have the option to record Google Meet on phone with Audio and then take down important points later with all integrity and mindfulness.
This point gives most of the advantage to all the students who are gaining their knowledge through an online mode of study. 
So, if you are one of those students and most of your meetings are held on Google meet, and you want to know how to record Google Meet on your phone with audio, then this article is going to give you real help. 
Other than the attendees, if you are someone who hosts meetings on Google meet and want to save that meeting on your phone, then Google Meet allows you to record the entire meeting.
All you need to do is find that option. But probably, you failed to do so, and that's why you are here reading this article. But before we get started, let's have a little bit of information about Google meet.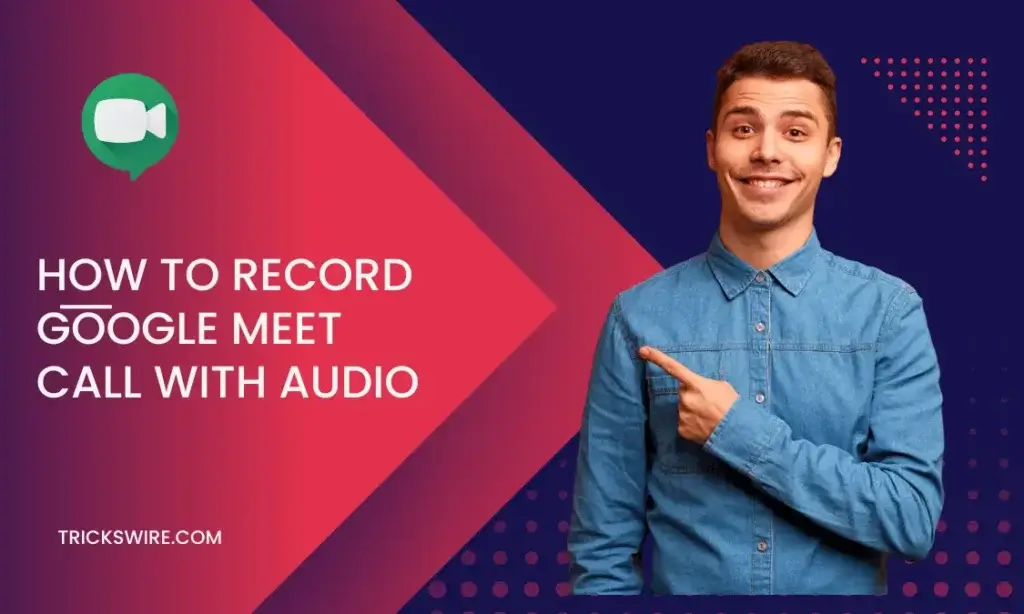 What Is Google Meet?
Google meets is an online meeting platform that is powered by Google. This platform can add up to 100 members only.
If you have created an account on Google Meet successfully, then you can either be a part of the meeting, or you can create your meetings. You can send a private link to attendees, or you can also send an open link to all the attendees. 
This platform is mostly used for video conferencing with a large number of members joining the meeting.
The platform is highly secure with the security of Google, and it does provide many other features that make this platform outstand other online meeting platforms. But the platform has a few restrictions as well.
You cannot join more than 100 people in one single meeting, and you cannot record the meeting for more than 8 hours. After 8 hours, the recording is automatically eliminated. 
How To Call On Google Meet?
To make a call on Google Meet, follow these steps:
Open Google Meet in a web browser or the mobile app
If you are on a web browser, sign in to your Google account.
Click on the "New Meeting" button to start a new meeting.
Share the meeting link or code with the participants that you want to join the call.
Once the participants have joined the meeting, you can start the audio call by clicking the "Join Audio" button or the microphone icon.
To make a video call, click the "Join video" button or the camera icon.
During the call, you can use the available tools, such as mute, turn off the video, screen sharing, etc.
That's it! Enjoy your Google Meet call.
Who Can Record On Google Meet?
It is equally important to frame this question so that you don't try searching for options to record a meeting on Google meet.
Only two people can record meetings on Google one. The first is the organizer of the meeting, and the second person should belong to the same organization as the organizer.
But the meeting organizer first allows attendees to record the meeting, and then only the attendee will be able to record Google meet. 
Other than this, you must know that you will not find the record option on your Google meet if it does not have any license or does not belong to any of these versions.
You should have Essential, Business standard, business plus, Enterprise essential. Enterprise standard, enterprise plus, Education Plus, Teaching and learning upgrade, or Workspace individual subscriber. 
Note that if you are using Google Meet on your mobile, you won't be able to record the meeting but will be notified about the recording.
So, if you want to record your Google meet meeting, then make sure you attend or host the meeting using a computer or a desktop. 
How To Record Google Meet On Phone With Audio?
If you have already read who can record a meeting on Google meet, then you must have qualified for those requirements. But as you want to record Google meetings through your phone, you will have to make a few changes to your settings.
First of all, make sure that you are storing the recording in the cloud and not in local storage. Once this is managed, you will be able to record from your phone. 
Now, join a meeting that you want to record.
Click on the three dots icon that you can see on the bottom-left side of your life meeting that denoted more options.
As you have already made the necessary changes, you will be able to see the start record option.
From the same menu, you will be able to stop the meeting.
The recorded meeting video is saved in your Google Meet meetings history.
NOTE: The recording feature is only available to Google Workspace Enterprise, Enterprise for Education, and Google Workspace Essentials customers. You may use third-party screen recording software to capture the Google Meet call if you are not a Google Workspace customer.
An Alternative Method To Record Google Meet On Your Phone
If you are not able to follow the above method, then you can install third-party applications that allow you to record your phone's screen. Before you use third-party apps, you can try recording with your phone's inbuilt screen recorder.
If your phone does not provide a screen recording option, try downloading live-streaming recording apps that provide extra features while recording your mobile's screen. 
Notification Regarding Recordings On Google Meet
If you are thinking that you can start or stop a recording on Google meets without letting anyone know about it, then you will fail in your attempt.
As soon as you start recording on Google meets, a pop-up notification is visible on the screen of every member in the meeting stating that someone has started recording this meeting.
So, everyone attending the meeting will be notified, and they will be fully aware of who started the recording. Similarly, as soon as you stop recording, everyone is notified about it.
Where Are Google Meet Recordings Saved?
If you are recording from the computer, all the Google meet recordings are saved to the organizer's drive.
It does not matter who started the recording or who made the recording, but once the recording is finished, the recorded video link is sent to the organizer and the person who recorded via their Gmail accounts.
And the recording is saved in the organizer's Google drive in an automatically generated folder named Meet recordings. This means the recorded video link is from the organizer's Google drive. 
Along with the video, the chat is also saved when recorded. In between a recording, if any of the present participants of the meeting turns on the captions, those will not be recorded alone. 
Conclusion:
Now that you have learned to record meetings on Google Meet, you can easily start a recording. The plus point with google meet recordings is that you don't have to worry about storage and where to find the recorded meeting video.
Even the folder where all these records are saved is generated automatically by Google. Moreover, sharing and downloading the recorded video from My Drives is equally easy.
However, as the video is saved in the meeting organizer's drive, the organizer can change the access limit to the video.