A platform where a topic becomes trendy as soon as it is uploaded, and a trend is unfollowed as soon as a new viral tweet is retweeted several times. Twitter is a platform for getting the trendiest and hot topics from around the world.
And there should be no other reason than why anyone won't ever want to lose a peak at any tweet tweeted on the Twitter platform, even if it's a deleted tweet. But how do you view deleted tweets on Twitter? Let's find out.
Different social media platforms have different features, different styles, and different ways of uploading and reacting to a post posted or shared on it.
Altogether, different social media platforms are used for different purposes, even though they all are designed to share content with the rest of the world.
Twitter is one of those platforms which is used to share quite valuable informative messages or information from around the world. It is considered a site for micro-blogging where you can share your thoughts and content that recites a catching story.
Every message shared on Twitter is called a tweet, and anyone can limit the audience they want to share their tweet. Any post, hashtag, or tweet can go viral and become the new trend on Twitter, with thousands and millions of retweets in a few seconds to a few minutes.
And you do not want to share any tweet that can bring you trouble because you never know what can interest people on Twitter at what time.
Apart from this, messages in your inbox are also considered tweets. To your surprise, you can view a deleted tweet that was shared with the public or followers even when it was removed from the public way before, and you can also view a tweet that was sent to you in your Twitter inbox, which you have the easiest access to.
It is an easy task to view a deleted tweet, and all you have to do is read this entire article to find out how to view deleted tweets on Twitter.
View Deleted Tweets
Fortunately, there is more than one method to view deleted tweets, and you can go for any of these methods which feel more convenient to you.
This article has mentioned two of the methods that help you read the archived Twitter data so that you can view deleted tweets. Both methods are easy to follow and give you the best results.
View Deleted Tweets From Twitter archives.
All your data is stored in a Twitter archive, including every post you shared and every tweet you tweeted or received. This is the direct method where you won't need to use any other online tool or download other apps to be able to view your previous data.
The first step is to go to Twitter and login with your Twitter account.
On the home page, you can see three bars on the top-left side which will open a menu. Click on it.
Now, a number of options will slide, from which you have to choose Settings and privacy options.
Next, click on the first option that you see, which reads Your Account.
Next, click on the Download An Archive Of Your Data option. You will be asked to verify it is you. You can verify using email or text.
After verification, click on Request Archive.

You will be informed when your data is ready to be downloaded, and you can download it easily.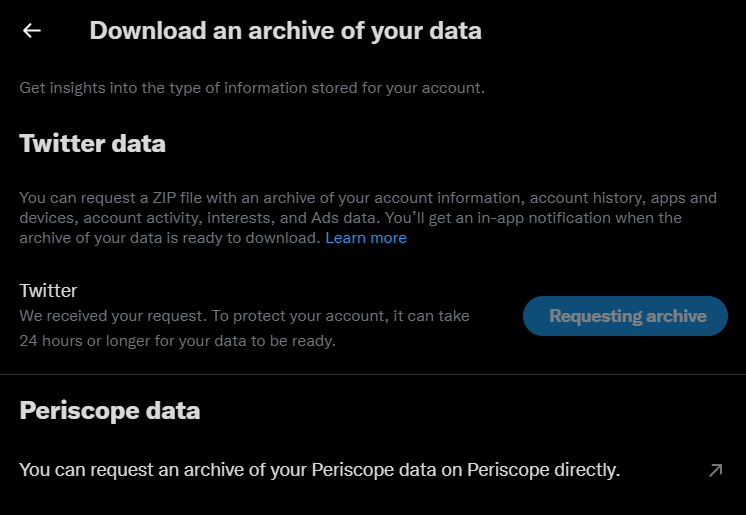 View Deleted Tweets From Internet Archive
Certain websites are designed to help you download your archived data, and these websites are common as Internet Archives.
This method is very useful for not only downloading your own Twitter data but tweets and post of others which was deleted.
If you search the internet archive on your web browser, you will come across many different websites, and you can go for any of those as you prefer. Here, you can read the steps for the Wayback Machine internet archive. 
Go to the internet archive- Wayback Machine, or you can also click on this link to directly go to the website https://web.archive.org/.
On the home page, on the topmost side, you will find a search box that will read and enter the URL of words related to a site's homepage. As you want to download the Twitter archive, you have to enter your Twitter home page URL link or the homepage link of the person's profile whose deleted tweets you want to view.
In the next tap, you have to click on the Browse History option.
For your convenience, you are given a choice to select a date on which you think the tweet was deleted. Select the date, and deleted data will be displayed.
This method is much better and more useful because it is convenient and easy to use as well.
Conclusion:
Social media has another world going on with realistic and non-realistic elements. These are the best medium for information and entertainment, and they also keep you up to date.
Twitter has been considered a micro-blogging site that shares the most informative content. If you did miss out on one of the useful tweets which no longer exists on Twitter, then you can view it using different methods.
The best way is to search history using online tools to get Twitter archived data where you don't have to go through an entire data to view deleted tweets only.